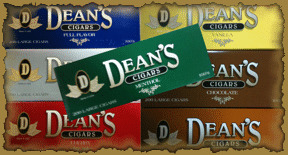 Deans Filtered Cigars are made from mild cigar tobacco with a smooth flavor. The small pack makes it convenient to carry to allow you to have that perfect everyday smoke.

Available in 7 exciting flavors:
Full Flavor, Mild, Menthol

Cherry, Vanilla, Chocolate, and Rum.

Available only in 100's. Find your favorite flavor!