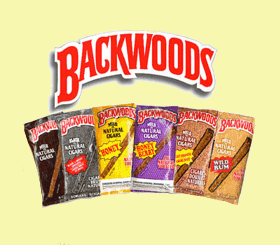 The Backwoods cigar brand was introduced in 1981 and have become a huge hit in the United States. Their slogan "Wild & Mild" has been seen by many at cigar shops and gas stations alike for many years. It's no wonder because the frayed end, tapered body, and unfinished head has appealed to new and old smokers alike. When one looks at a Backwoods cigar, it conjures up images of the old Wild West, complete with Cowboys and shootouts!

Backwoods cigars are available in a variety of flavors, such as Black 'N Sweet, Sweet Aromatic, and Honey. We don't force you to buy a whole case of 960 cigars like some online stores.

Buy from us in 40-count boxes (five 8-packs) and get a great price!